Lawn Seeding Service and Top Dressing in Danville CA and the San Ramon Valley:
Serving Danville CA, San Ramon CA, Walnut Creek CA and Alamo CA for over 15 years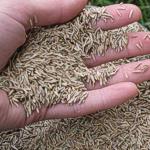 A healthy lawn may need more than just fertilizer to reach its maximum potential. There are a myriad of specialized lawn care products designed to promote growth and help maintain healthy nutrition of the soil. Seeding is particularly necessary for continual growth of new grass and roots. Top dressing is the process of adding an additional soil mixture that is worked into the grass in order to even out lumps and dips in the lawn. Your Danville Lawn Care Professional will inform you when Seeding and/or Top Dressing is required and take care of it for you.
---
Get The Greener Lawn You've Always Wanted:
Call Barnett Lawn Care in Danville CA at: (925) 395-7950
---
Other Danville Lawn Care Services: