Sprinkler Repair Service and
Water Saving Sprinkler Installation
in Danville CA and the San Ramon Valley:
Serving Danville CA, San Ramon CA, Walnut Creek CA and Alamo CA for over 15 years specializing in sprinkler repair and water saving sprinkler installation.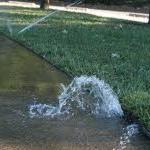 No matter what we do to your lawn, proper watering is essential in order to maintain its health. Poorly adjusted sprinklers and broken sprinkler heads can cause uneven growth and patchiness. During our initial consultation, we will test your sprinkler system to see if it is sufficient. If it is not, we will make specific recommendations for optimizing or replacing your sprinklers with more efficient water conserving sprinklers so that they can better do their job. On our regularly scheduled visits, we will inspect your sprinkler system and replace or repair any damaged sprinkler heads and adjust those that are not flowing properly.
---
Beat The Drought with Water Saving Sprinklers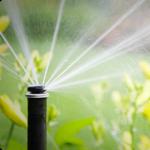 With the current drought situation in California, it is now more important than ever to consider switching your old water wasting sprinklers to newer water saving sprinklers. Not only will you conserve precious water when most needed, you will save money as well. The increasing concern over long-term drought is most certain to cause water prices to rise...which can have an undesirable affect on your monthly water bill.
The media has reported 2013 as the driest year in California history since records started being kept in the 1840s. According to B. Lynn Ingram (UC Berkeley Paleoclimatologist) "This could potentially be the driest water year in 500 years". Ingram also believes the drought could continue for several more years, so installing sprinklers that use less water will have an immediate as well as long term benefit.
---
Get Your Water Saving Sprinklers Installed Now:
Call Barnett Lawn Care in Danville CA at: (925) 420-6550
---
Water Saving Sprinkler Installation Service
We will replace your old inefficient water wasting sprinklers with the best water saving sprinklers from Hunter Industries featuring the specialized MP Rotator. These specialized sprinkler heads use substantially less water, yet provide better irrigation coverage than typical sprinklers.
Read more about the MP Rotator sprinklers below or watch this video.
Hunter Industries MP Rotator is a revolutionary sprinkler that has set a new standard for water efficiency in the irrigation and landscape industry. Save water and money with Hunter Industries MP Rotator. The MP Rotator is the most efficient nozzle line available for irrigating residential and commercial landscape areas. It uses less water to cover the same area as other nozzles.
This is done by rotating streams of water with precision accuracy, leading to a more uniform pattern and coverage area. This, paired with a lower application rate of four tenths of an inch per hour allows for better water absorption into the soil. The MP Rotator has superior dirt tolerance with a patented double pop feature that flushes on start-up and shut-down. While operating there is only one moving part increasing durability with harsh water and debris going through the nozzle. Traditional sprays deliver a constant spray of water in an inefficient pattern leading to over watering in some areas and under water in others.
Typical sprays continue watering until all areas of the pattern reach optimal root watering. This results in wasteful runoff and pollution. MP Rotators use multi-stream technology incorporating precise streams that rotate in a uniform pattern to distribute water in a low application rate allowing for maximum soil absorption. By applying water slower deep root penetration is achieved developing healthy landscapes with optimal amounts of water in all coverage areas.
Because the MP Rotator has a lower application rate than traditional spray nozzles it is recommended to double previous spray head run times. Running MP Rotators twice as long does not mean you are using more water. Quite the opposite. When used properly, the MP Rotator provides water savings of up to thirty percent.
MP Rotators even outperform landscaped drip lines installed under turf or landscape beds. Drip lines apply water at point locations that result in uneven water distribution and require over watering at the water emission points. The low application rate of the MP Rotator is especially useful for slopped areas, as it allows water to soak deeply into the soil preventing runoff that can occur with high application rates of traditional spray nozzles.
Traditional spray heads have mist patterns that are easily distorted by light winds. The MP Rotator streams are designed to cut through the wind and minimize this distortion. Designing with the MP Rotator leads to a significant reduction in system piping, size of controller, amount of valves, and labor required for system installation reducing overall costs. Let's look at typical spray installation.
Because of the higher flow and shorter distances of traditional sprays it takes six zones and fifty five spray heads to cover this application. By designing with MP Rotators this system is reduced to only two zones and thirty four heads due to the MP Rotator lower water use per head. Incorporating the MP Rotator is easy and efficient for any system.
The MP Rotator is the only adjustable multi-stream nozzle offer with consistent application rate at any arc and any radius and can be mixed with any other MP Rotator models. The MP Rotator is compatible with most conventional pop-up bodies to cover the eight to thirty-foot radius range all in the same zone. The MP Rotator is offered with three different radius ranges, the MP1000 covering eight to fifteen feet, the MP2000 covering thirteen to twenty one feet and the MP3000 covering twenty two to thirty feet.
Each model is available with three arc adjustment options, 90 to 210 degrees, 210 to 270 degrees, and a dedicated 360 degrees full circle. specialty nozzles are offered with side strip and corner strip patterns. These nozzles put water precisely where needed in a 5 by 15 foot and 5 by 30 foot rectangular patterns. In just a few model options MP Rotators cover from 5 to 30 feet with flexibility and efficiency.
The adjustment of the MP Rotator is done quickly and easily in two steps, one for arc and one for radius. To adjust the arc install the MR Rotator with the left edge indicator pointing to the left side of the desired watering area. Next turn on the water as arc adjustment cannot occur when the sprinklers not operating. Rotate the arc adjustment ring clockwise to increase the arc, covering the desired watering area, up to a maximum arc for the model being used. Adjust the radius with the radius adjust screw on top of the nozzle. The radius can be reduced by twenty five percent on all MP Rotator models. Rotate the screw clockwise to decrease radius or counterclockwise to increase radius. Four full turns will take you from maximum to minimum radius. Hunter Industries is known worldwide for our innovative irrigation solutions and quality products. All Hunter products are thoroughly tested at our global Headquarters test facility in San Marcos, California to insure the highest quality and reliability. The MP Rotator's precipitation rate of four tenths of an inch per hour, the lowest in the industry, multi-stream technology, and matched precipitation rate at any arc and radius make the MP Rotator the most efficient nozzle in irrigation.
It makes sense to use the MP Rotator because you reduce costs while helping to conserve our most precious resource. This is why, it has become one of the most sought-after products in irrigation history. Save water and money with Hunter's Industries MP Rotator.
---
Get The Greener Lawn You've Always Wanted:
Call Barnett Lawn Care in Danville CA at: (925) 395-7950
---
Other Danville Lawn Care Services: