Lawn Sodding Service in Danville CA and the San Ramon Valley:
Serving Danville CA, San Ramon CA, Walnut Creek CA and Alamo CA for over 15 years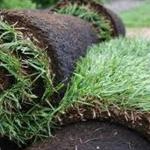 You will be amazed at how your Danville Lawn Care Professional can transform what appears to be a hopeless lawn into the finest lawn on the block. But there are cases where a lawn is simply irreparable and the soil is in such bad condition that we must start from scratch. In such cases, we provide a complete re-sodding service where we remove the existing grass and top soil and provide new healthy soil and grass either from seed or rolls of turf. We will make this recommendation upon our initial consultation if we find it necessary.
---
Get The Greener Lawn You've Always Wanted:
Call Barnett Lawn Care in Danville CA at: (925) 395-7950
---
Other Danville Lawn Care Services: